The 340B p
rogram'
s merit has consistently been scrutinized. Recent news suggests the 340B program is indeed beneficial to the healthcare society. Twenty-nine members of the senate are advocates of the program. Members of the house champion the 340B program and have concluded that the results indicate reduced pharmaceutical costs, to serve low-income patients and other vulnerable patients.
The 340B Drug Pricing Program is administered by the U.S. Department of Health and Human Services, Health Resources and Services Administration (HRSA) – Office of Pharmacy Affairs. The program provides substantial front-end discounts for eligible-covered entities and significant savings on pharmaceuticals for covered entities that participate in the program. The 340B legislation also allows covered entities to utilize multiple contract pharmacies for pharmacy services and the dispensing of 340B purchased drugs.
The 340B Program allows eligible entities to purchase medications at discounted rates, enabling them to provide better access to medications for low-income patients. The program typically saves on average of 25% to 50% off the average wholesale price, but complying with the Human Resources and Services Administration's (HRSA) requirements on inventory management, tracking, and auditing can be challenging and a burden for valuable staffing resources for many covered entities
Incorporating 340B software not only adds efficiency to auditing, tracking, and how the inventory is managed, but also minimizes human error and reduces the workload required to monitor and adhere to changes resulting from changes to the 340B legislation. The added efficiency and reduction in workforce allows the staff to focus on other important initiatives, like serving the patient. For the covered entity, the added savings from purchasing medications at the 340B discount price and the ability to recapture revenue allows the provider to apply those dollars to improving the hospital or clinic.
Ramsell340B "Five P " Auditing Process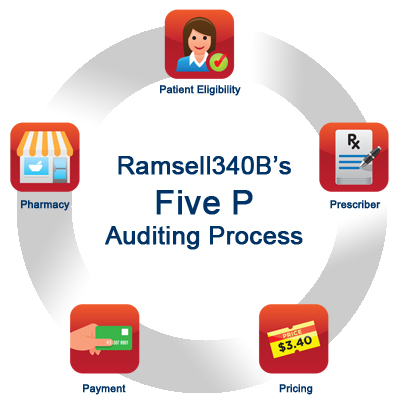 Want to join in on our discussions? Follow us on Twitter: